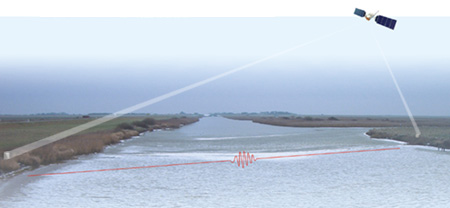 Wireless Systems - when crossing a cable
through the water is not an option

Using a wireless system one of the most expensive parts of an
ordinary installation is eliminated: The cable that runs the sole
of the river. This makes it an ideal solution for discharge measurements
in wide stretches of water.

For years now this technology is applied in the mediterranean Sea
and the coastal region of northern Germany and is proving to be
a reliable alternative. On either side autonomous systems are
installed such that their line of sight is diagonal to the flow of water.
Both systems communicate with each other by means of directional
radio. Additionally the systems are equipped with GPS receivers.
The satellite data from these receivers provide a high-precision
standard frequency and accurate timing pulse which is necessary to
ensure both systems run absolutely synchronous.

One master system can control multiple slaves making a multi-level
sytem setup possible. If other power sources are unavailable
you can run a wireless system using solar panels or using a hybrid
concept with fuel cells and solar panels.