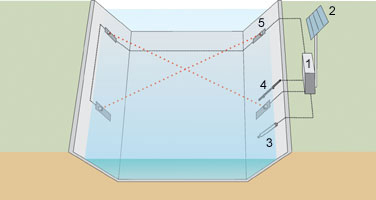 1) Measurement station, incl. data logger
and remote data transfer unit
2) Solar panel, if there is no power supply
3) Sensor for water quality
4) Pressure sensor for
water level measurement
5) Transducers for ultrasonic
discharge measurement
Till the year 2015 the European Community's Water Framework Directive
regulates by law, that all water bodies have to be in good ecological conditions.
With monitoring programs inputs of dangerous substances have to be detected,
after token steps achievements have to be proofed.

We offer continuously working, automatic measurement systems,
which meet these demands.